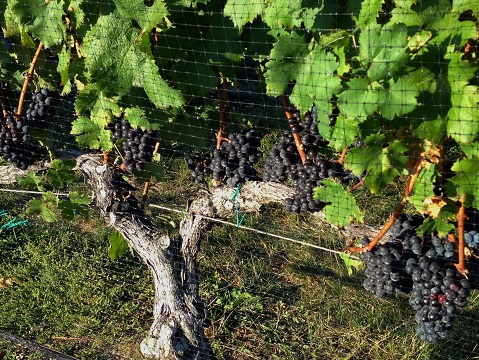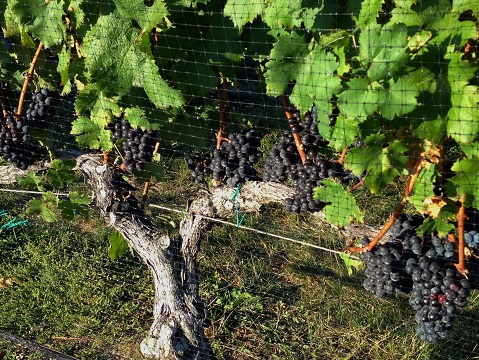 It was the perfect early-autumn day on the North Fork. I hadn't had even a sip of wine, but I sure was feeling those vineyard vibes as I stepped onto the back patio at Pellegrini Vineyards. The grapes were hanging low in deep shades of green and purple, almost ready for harvest. The sun was gleaming and felt warm on my face, and Kristen and Ron were laughing and mingling with their family and friends.
Guests took a short walk into the field to find their seats. The decor was simple and fittingly Fall. Galvanized tins filled with baby's breath lined the aisle. There were plump orange pumpkins and bright sunflower bouquets. Under a big sturdy tree, two wine barrels set the stage for the ceremony. The bride was escorted by their dog Luka and her Man of Honor, her brother Jason, to Coldplay's sweet song Reign of Love. (You can have a listen here if you forward to about 4 minutes in.)
As the ceremony began, I reminded friends and family that the place where we were gathered had played a big part in this love story. Over the years, the couple had come here to spend time with loved ones, to enjoy wine tasting, and to kick up their feet and relax. Between each visit, their relationship changed and the two grew a bit closer, until finally, here amongst the vines just a few months before, Ron proposed... and Kristen of course said yes!
By the time their vows were exchanged, it was like a wave of love had washed over us all. In a tender moment, the groom paused as his tears got the best of him. There was a real joy present here, and a sense of peace too. We could feel the immense appreciation the two have for one another, and knew then that the promises they made are ones that will last them their whole lives through.
Kind words from the couple...