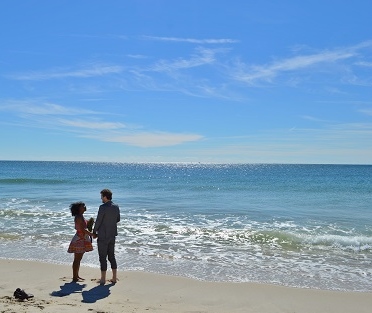 On a Sunday morning in September, the sun was beaming, there was a cool breeze in the air, the sand was warm between my toes and I could hear the waves lapping on the shore nearby. Andy and Geri invited only their immediate family for their wedding ceremony on Smith Point Beach at the eastern end of Fire Island. Color coordinated in shades of blue and tan, the group looked like they could have been there for a magazine photo shoot as they gathered casually, some standing, some leaning on nearby trees, and some lounging on a large blanket. Two candle lanterns flanked the bride and groom to set the ceremony space. The candles were lit and we began.
The love and intimacy was palpable from the start. There was something about this setting, these two families coming together, this madly in love couple... I knew we were all going to feel some honest, raw emotions that day. I made sure that there were plenty of tissues stashed away in the secret flap in my ceremony book, ready to be shared. Good thing, because when Andy and Geri recited their own vows to one another, there wasn't a dry eye around.
I spoke of their love story - the magic of their interactions when they first met, the challenges they had overcome together since, and their hopes for the future. From my vast collection of wedding readings I had shared with them, they'd chosen two very unique and perfectly fitting poems: Touched by an Angel by Maya Angelou, read by the groom's sister, and These I Can Promise by Mark Twain, read by the bride's nephew. (See below for full poems.)
The couple felt like it was their own little miracle to have both of their families present for this unforgettable day and they wanted them all to feel like they were truly a part of their union. We incorporated a lei exchange ceremony, borrowing from Hindu and Hawaiian traditions. After Andy and Geri exchanged their rings, their mothers each placed a flower garland around the other's neck, then their fathers followed, and finally each of their siblings. It was a deeply moving symbol of the unity and bond these two families now share through the couple's marriage. The ceremony concluded with a kiss, and lots of cheers and tears of joy!
Kind words from the couple...
Q&A with the couple
Q. What was your favorite moment in the ceremony?
A. ANDY: My favorite moment of the ceremony is difficult to pin down because I really loved every moment of it. A few highlights include Geri's 10-year old nephew doing a reading by Mark Twain, my sister reading Maya Angelou, the lei exchange, and of course reading our vows to each other. I loved the whole ceremony, though.
A. GERI: My favorite part of the ceremony was listening to Andy read his vows through tears. Obvious I guess, but still the best.
 
Q. What advice would you offer to couples that are planning their wedding?
A. ANDY: If I could offer one piece of advice to couples planning their wedding, it would be to talk out all of your feelings about the ceremony together, as a couple, for as long as it takes to start shaping the vision of what your ideal ceremony looks like. Whatever you create together will probably be better, or at least more meaningful, than anything the two of you could achieve individually.
A. GERI: My advice is that your wedding is whatever you want it to be. I feel like ours turned out perfect and we never really planned it. Just picked a date, then made choices based on our restrictions. I feel like sometimes folks get caught up in trying to create "perfect" so just be sure to remember what's actually important to you.

VENDOR HIGHLIGHTS
ANDY: I got an affordable suit at zara.com and it fit perfectly.
Readings
Touched by an Angel by Maya Angelou
We, unaccustomed to courage
exiles from delight
live coiled in shells of loneliness
until love leaves its high holy temple
and comes into our sight
to liberate us into life.
Love arrives
and in its train come ecstasies
old memories of pleasure
ancient histories of pain.
Yet if we are bold,
love strikes away the chains of fear
from our souls.
We are weaned from our timidity
In the flush of love's light
we dare be brave
And suddenly we see
that love costs all we are
and will ever be.
Yet it is only love
which sets us free.
These I Can Promise by Mark Twain
I cannot promise you a life of sunshine;
I cannot promise you riches, wealth or gold;
I cannot promise you an easy pathway
That leads away from change or growing old.
But I can promise all my heart's devotion;
A smile to chase away your tears of sorrow.
A love that's true and ever growing;
A hand to hold in yours through each tomorrow.