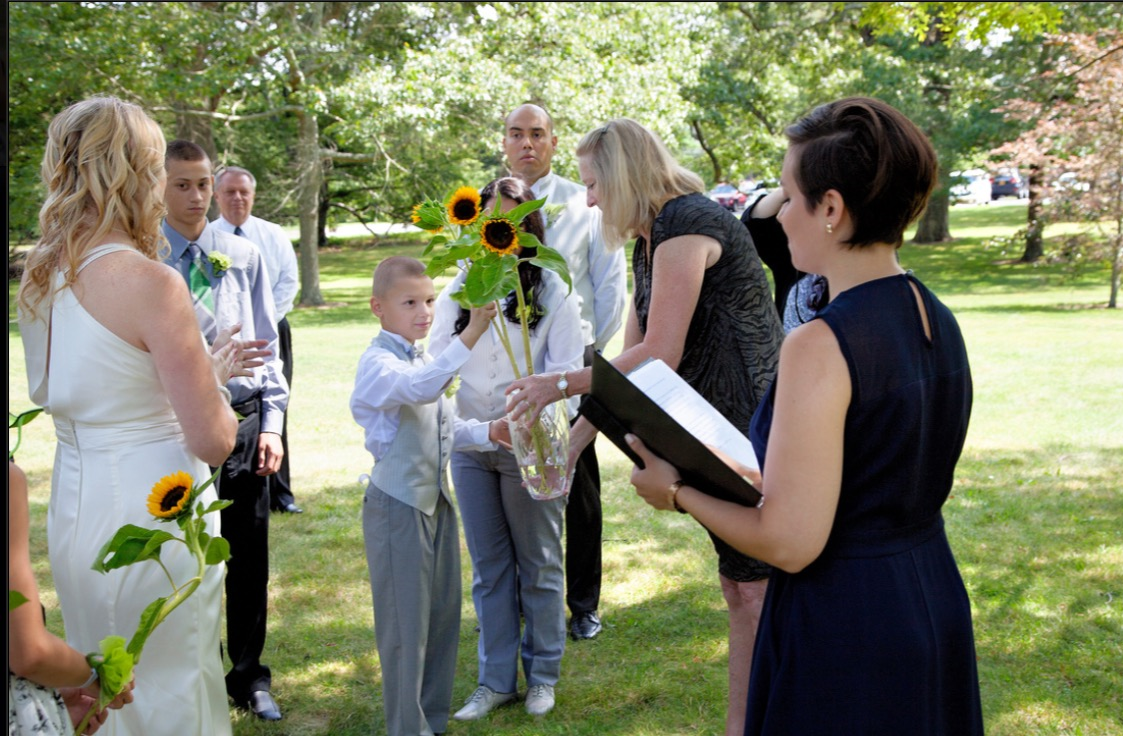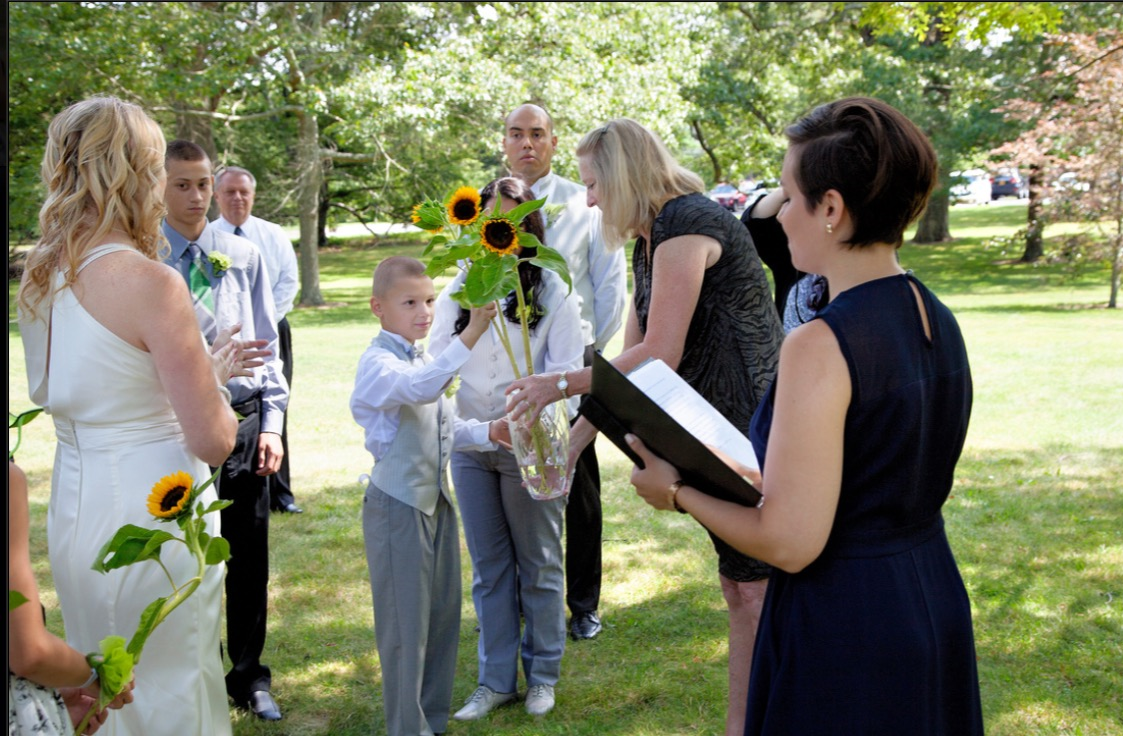 The poet Laura Hendricks wrote, "Love is friendship caught fire." And so it is with Danielle and Carla. You can truly feel the spark between them when you are in their presence, but you can also plainly see that their unwavering love is based upon a solid foundation of friendship.
On what was already a beautiful day, the sun seemed to shine just a little bit brighter as we began their ceremony at Bayard Cutting Arboretum in Oakdale. Everyone gathered around a large tree that was generous with its shade - a reprieve on this warm August day. In attendance were some family members as well as a number of friends who over the years, as the couple explained to me, had become their family. These women were incredibly grateful for the support their loved ones showed them by bearing witness to the start of their marriage.
Danielle and Carla gave a great honor to their dear friends Carolann and Lindsay, asking them each to choose their own reading for the ceremony. Carolann kept hers a surprise for them on their wedding day, taking a piece of prose, an excerpt from A Bridge Across Forever by Richard Bach (see full text below), and putting her own spin on it to make it even more personal to the couple. She spoke of the two being soulmates, a perfect pair. Lindsay decided upon The Art of Marriage by Wilferd Arlan Peterson (see full text below). From the second reading, the line that stood out perhaps most of all was "[Marriage] is forming a circle of love that gathers in the whole family." To Danielle and Carla, their marriage is not just about the two of them, it is just as much about their four children. Their two sons and two daughters bring fullness to their lives and to their hearts, and they wanted them to know what an important part they played in this love story.
So we created an original ritual for them to perform together during the ceremony. Carla's mom came forward with a crystal vase, then one by one, each of the children and their moms placed a flower inside to create a bouquet, expressing their family unity. The sunflower was the bloom of choice, which was quite fitting for its symbols of warmth, happiness, adoration, loyalty and longevity. As we watched the bouquet being formed, it was easy to see the commonality of the flowers and the bond of this clan. Yet each flower had its own qualities that made it special and added something unique to the bunch, just like each of them is an irreplaceable part of their family.
Together, Carla and Danielle and their four children were now a complete unit, and it was certainly a day to celebrate!
Kind words from the couple...
Readings
Excerpt from The Bridge Across Forever by Richard Bach
A soul mate is someone who has locks that fit our keys, and keys to fit our locks. When we feel safe enough to open the locks, our truest selves step out and we can be completely and honestly who we are; we can be loved for who we are and not for who we're pretending to be. Each unveils the best part of the other. No matter what else goes wrong around us, with that one person we're safe in our own paradise. Our soulmate is someone who shares our deepest longings, our sense of direction. When we're two balloons, and together our direction is up, chances are we've found the right person. Our soulmate is the one who makes life come to life.
The Art of Marriage by Wilferd Arlan Peterson
Happiness in marriage is not something that just happens. A good marriage must be created. In the Art of Marriage: The little things are the big things. It is never being too old to hold hands. It is remembering to say "I love you" at least once a day. It is never going to sleep angry. It is at no time taking the other for granted.
It is having a mutual sense of values and common objectives. It is standing together facing the world. It is forming a circle of love that gathers in the whole family. It is doing things for each other, not in the attitude of duty or sacrifice, but in the spirit of joy. It is speaking words of appreciation and demonstrating gratitude in thoughtful ways. It is cultivating flexibility, patience, understanding and a sense of humor. It is having the capacity to forgive and forget.
It is giving each other an atmosphere in which each can grow. It is finding room for the things of the spirit. It is a common search for the good and the beautiful. It is establishing a relationship in which the independence is equal, dependence is mutual and the obligation is reciprocal. It is not only marrying the right partner, it is being the right partner.